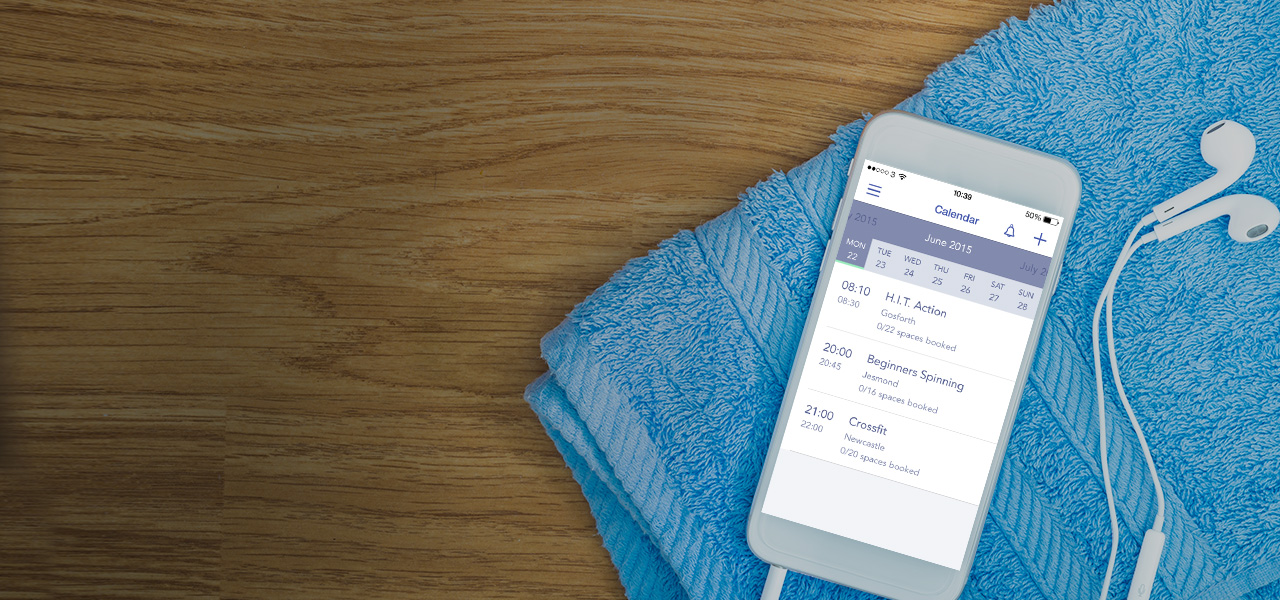 Manage your fitness classes on the move
Manage your fitness classes on the move
Are you an independent gym with reception staff?
Manage those bookings through our web based solution GymSync.
Get GymSync
Close
Spend more time training your customers and less time dealing with admin
BookFit is a simple to use sports class booking app developed specifically for personal trainers and fitness instructors.

Exactly the people that we know need an easy way to manage their classes on the go, keeping on top of class management directly from their mobile phones.
Reasons to love BookFit
Create class timetables

Take online bookings from your customers

Customers can find you through the class directory

Online waiting lists maximise attendance at every class

Happy customers are good customers
Make life simple for them with an online booking app they will love
The BookFit Story
BookFit has been developed specifically for fitness instructors and independent gyms to help them manage their classes on the go.
We have conducted extensive research with a wide range of instructors and trainers to fully understand the pains currently faced managing fitness classes. This valuable insight has shaped the development of BookFit and ensured that the features offered in this app will make a real difference to your working life.
Capture those last-min attendees instantly in the app

Indicate whether your class needs an induction first

We show customers only spaces left, NOT capacity overall

Friendly language throughout the app makes it fun & easy to understand
"I'm often out and about and with my current system I can't access information on the phone which makes life really difficult."

Dee
Pilates Instructors
"Our business is everywhere so we need a mobile solution that is fast and easy to use."

Erin & Scott
Insanity, Boxercise, Circuits Instructors

Make your life easier
Get access to the information you need, exactly when you need it
BookFit Features
Run your classes on the move
Keep on top of all management of your classes directly from your phone.
It's easy to check at any time how many people you have registered and to send out last minute messages to customers updating them on changes such as it's a sunny day so bootcamp is outside or it's a boxing session so remember to bring your gloves!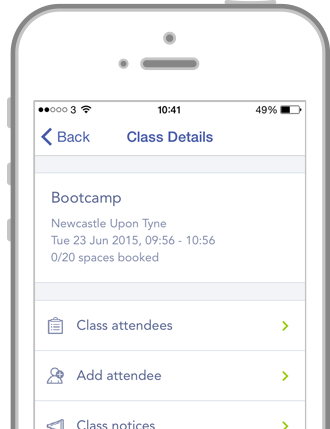 Don't miss out being in the new fitness class marketplace
Grow your fitness business and let new customers find you through the BookFit app class directory. Potential new customers will use the app to search for a new class to join by location.
Don't miss out, get involved today and make sure your classes can be found.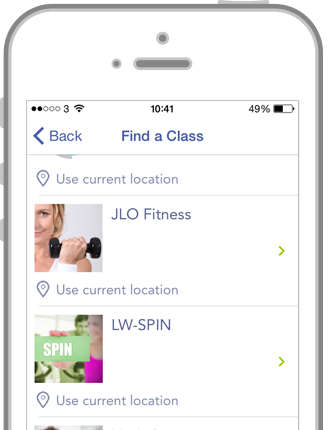 Easily create classes
With BookFit you can quickly and easily create a timetable of all of your upcoming sessions.
Using the app you create each session specifying the location and spaces available then publish for everyone to book onto. Simple.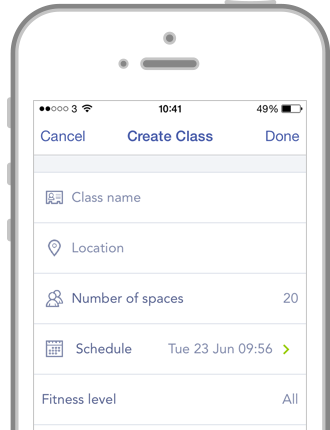 Real time class availability & booking
Customers can easily book onto the sessions they wish using the app, making life as simple as possible for them – no having to wait to hear back from you on what spaces are available, and gives them complete control over their fitness, encouraging them to attend as many sessions as possible.
As customers book (or cancel) their space at a session, BookFit will automatically update the number of spaces available in real time.
Customer updates
​Give your customers the best opportunity to attend every class they wish to (and keep up their fitness goals!) by reducing the likelihood of no-shows.
If a customer tries to book a class which is full they will be asked if they wish to be added to a reserve list. When a space becomes available they will be automatically notified. Keeping customers happy and keeping your classes as full as possible.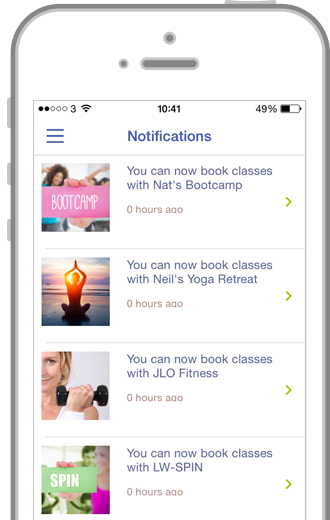 Create a buzz in every class
Boost attendance at each and every one of your classes
Bookfit is perfect for
(to name a few...)
Bootcamps

Personal training sessions

Spinning

Circuits

Yoga

Pilates

Kickboxing

High Intensity Training

Find new customers
Actively promote your business in our fitness class marketplace